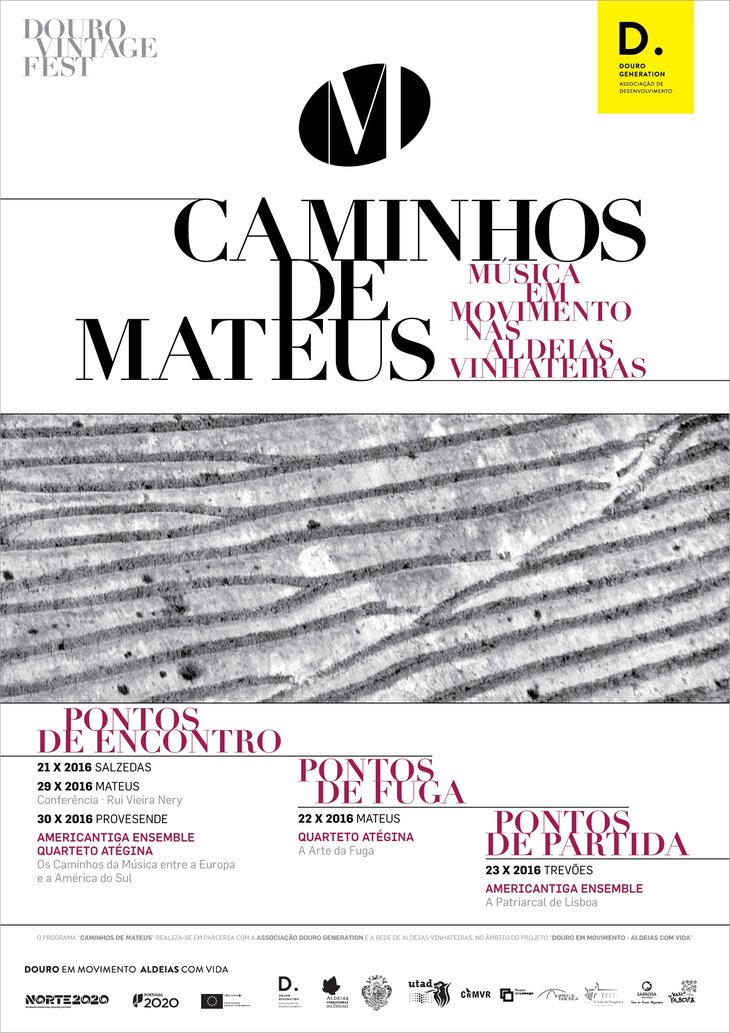 Caminhos de Mateus
Música em movimento nas aldeias vinhateiras
A Fundação da Casa de Mateus associa-se ao projeto da Douro Generation, associação para o desenvolvimento "Douro em Movimento - Aldeias com Vida", através do programa "Caminhos de Mateus", um programa de atividades musicais que inclui um conjunto de concertos de música antiga e barroca de compositores de Portugal e de países da América Latina.
Este ciclo, que se inicia no próximo dia 21 de Outubro, irá explorar as intensas relações entre a música antiga e barroca em Portugal e em países Ibero-Americanos, e será apresentado pelo seu Director Artístico, Ricardo Bernardes.
A entrada é livre, mas os lugares são limitados pelo que se recomenda a confirmação para o e-mail: arquivo2@casademateus.pt
Ciclo de Conversas sobre Arte, Ciência e Cultura
Ética dos Bancos
O próximo CCACC está agendado para o dia 12 de Novembro de 2016, pelas 15h.
O tema desta sessão é Ética dos Bancos, e o orador convidado é Geert Demuinjk (EDHEC Business school), Professor especialista em Ética do trabalho e Filosofia Política.
A sessão será moderada pelo Professor Roberto Merrill (Universidade do Minho), em inglês, com apoio de tradução em português.
Por ocasião deste encontro será oferecida aos participantes uma prova de vinho da Lavradores de Feitoria.
A entrada é livre, mas os lugares são limitados pelo que se sugere inscrição prévia através do email: arquivo2@casademateus.pt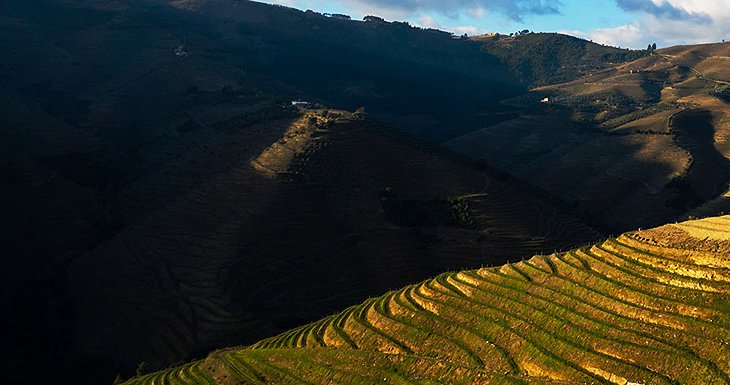 Douro et Orbi Globalization and Gastronomy
A Case Study on Economic Added Value of Territorial Identity
The project aims at analyzing the relationship between globalization and gastronomy in the framework of regional development, identifying challenges and key success factors. First, the field of gastronomy will be examined as a case study to understand the way regional identity can be a powerful and competitive tool to succeed in the global arena. Secondly, we will turn to the role that university and the scientific community can play in bringing added value to regional identity and regional resources. Thirdly the seminar will seek to establish a platform to contribute to the networking of relevant stake holders and to a better understanding of gastronomy and territorial identity as an economic added value in a global context.
Mateus DOC
Lançamento dos Cadernos IX e X
Para assinalar os 30 anos do IICM realiza-se em Mateus a reunião habitual do Conselho de Reitores das Universidades Públicas Portuguesas.
Nessa ocasião, serão apresentados aos Magníficos Reitores os Cadernos nº 9 e 10 do Programa Mateus DOC, dedicados, respectivamente ao tema da Migração e da Globalização.
Para descarregar o pdf, clique no seguinte link - Mateus DOC IX - Migração
Para descarregar o pdf, clique no seguinte link - Mateus DOC X - Globalização
IICM'S 30st Anniversary
The Casa de Mateus International Institute (IICM) was created the 14th of April 1986, a few days after the official oppening of the Trás-os-Montes University (UTAD), which took place the 22nd of March.
Professor Fernando Real, rector of the Universitary Institute that became the regional University, was also the first president of the IICM.
Since 2016, the president of the Institute is Professor Eduardo Marçal Grilo.
To celebrate its 30st anniversary the IICM developed this new website which purpose is to gather and disseminate information about its past activities and its current and future projects.
A4CE
Fundação da Casa de Mateus - Régia Douro Park
The Academy for Creativity and Entrepreneurship (A4CE) is especially designed for low density regions. It's objective is to contribute to Northern Portugal SMEs capacity building, as well as to strengthen bonds between companies, knowledge and research centers, technology parks and creative hubs. Through a series of workshops programmed to take place in 2017, the set of actions it proposes aims at identifying and raising awareness of the critical factors of competitiveness, proposing complementary approaches that are based on a triple pillar: the in-depth knowledge of the potential of the Region, particularly in the fields of viticulture and gastronomy; the dissemination and development of innovative methodologies of strategic management through design thinking tools; finally, the production and development of crossovers between artistic, scientific, creative and entrepreneurial approaches, seeking to foster innovation paths, network effects and cooperation practices that lead to the development of new ideas, new forms of management and strategic planning, and, eventually, new products and services.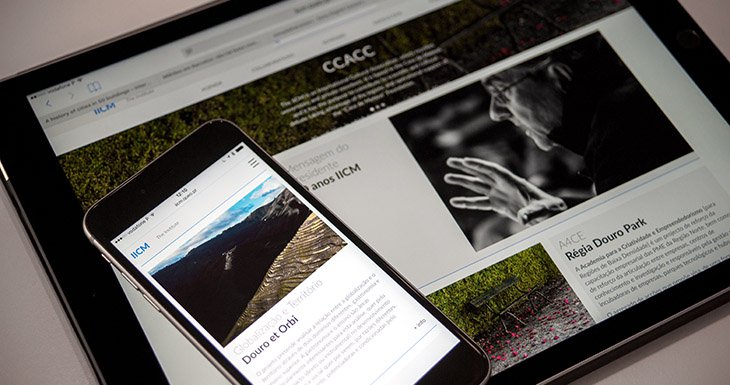 30 years New platform,
digital communication
www.iicm.pt
Currently in trial version , the International Institute Casa de Mateus is launching a new website.
A single aggregator and digital communication channel that aims to improve the experience of those who visit us, with design and completely new image , more functional and appealing .